Healthy Athletes® is a Special Olympics program that provides free health screenings in a fun, welcoming environment that removes the anxiety people with intellectual disabilities (ID) often experience when faced with a visit to the doctor or dentist. We not only serve these athletes but also train healthcare professionals who then go back to their practices with increased knowledge of and compassion for people with ID.
Please note – masks will be required in all screening rooms.
Special Olympics New Jersey will be offering all Healthy Athletes disciplines alongside Summer Games in the Brower Student Center at TCNJ.
June 10 – 9:00 a.m. – 4:00 p.m.
Opening Eyes will close at 3:00 p.m.
June 11 – 9:00 a.m. – 1:00 p.m.
Opening Eyes will close at 12:00 p.m.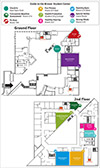 All registered SONJ athletes are welcome to attend Healthy Athletes, even if you are not competing the weekend of Summer Games. Please email Amelia Hamilton at ARH@sonj.org to let her know you plan to attend and come between the times listed above. No pre-registration is required.
After each Healthy Athlete screening, athletes will receive a free giveaway specific to that discipline!
In addition to the free giveaways, athletes are able to enter into a free drawing to win bigger ticket items! For each Healthy Athletes discipline an athlete visits, the athlete will be able to enter one ticket into the drawing, up to eight (8) tickets. The more Healthy Athletes disciplines an athlete completes, the more chances he/she has to win a prize!

Prizes include:
Tickets to sporting events
Autographed sports memorabilia
Tickets to the Camden Aquarium
and much more!

The drawing will be held on Sunday, June 11, 2023 at 1:00 p.m.